Currently based in Los Angeles, Grammy Nominee and Artist Sammy K has performed and or recorded with a list of Artists that includes: Bob Hope, The Coasters, Michael Orland (American Idol), Tony winner Levi Kreis, Engelbert Humperdinck, Wes Anderson, Lucy Lawless, Burt Bacharach, Amy Cook, The Stars of the Lawrence Welk Show, Jon Hendricks, The United States Air Force Band of Flight, Jimmy Heath, Zara (Dire Straights, Bob Geldof), The Platters, Buselli/Wallarab Big Band, Bobby Vinton, The Nelson Riddle Orchestra, Steve Turre, The Mills Brothers, David Pomeranz, Travis Howard, Kate Miner, Dave Brubeck, The Ink Spots, The Jimmy Dorsey Orchestra and Harry Connick Sr.
Grammy winners Ray Bardani, Ted Perlman and Mike Acosta utilize Sammy's grooves for their recording and live projects. He is a six-time Down Beat Award Winner and has appeared on the Emmy Award winning Wayne Brady Show, Ally McBeal with KC and the Sunshine Band and Josh Groban, Unsung Heroes on CMT on film in The Fast and the Furious, Confessions Of An Eco-Terrorist and The Spaces In Between: On The Road With Amy Cook.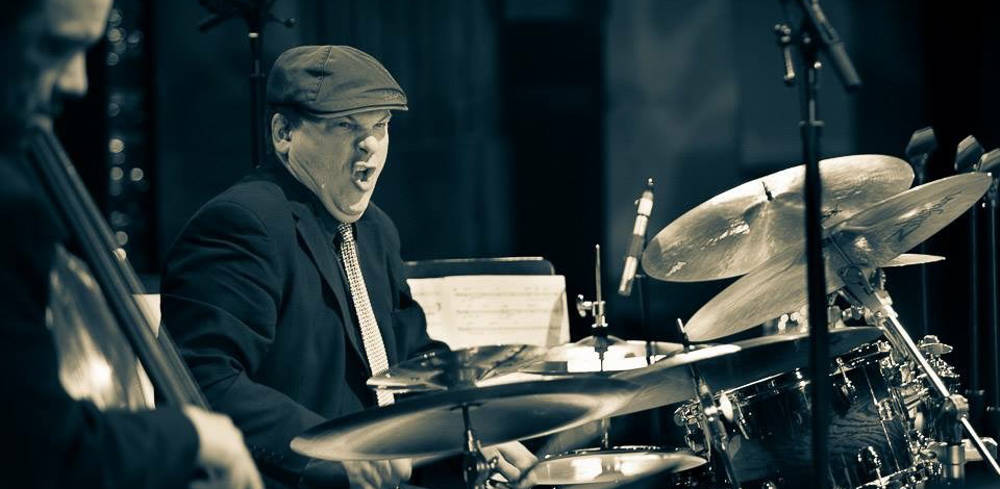 His Drumming is heard on: Mythbusters, The L Word, several Disney holiday DVDs and on TV and radio as part of the LA Laker Band. The clients that have used his talents include: The Walt Disney Company, Ferrari, NBC, The Hal Leonard Publishing Company, Much Music Television, the Six Flags Corporation, Daimler-Chrysler, ABC, and the International Toys for Tots campaign and CBS.
His "Groove Boot Camp" program is taught to students and educators internationally in addition to clinics and private teaching. He is the co-creator of "Body Beat" a card based educational tool that creates a Drum Circle experience without Drums. Sammy combines his live and studio playing with Educational events that span genres and generations. His high energy, positive approach to music and teaching are infectious to those around him and help keep him in demand.
He proudly endorses Remo Drum Heads, Zildjian Cymbals, Yamaha Drums, Vic Firth Drum Sticks, Cympad cymbal washers and Kotz Cajons.